Jofo at the Dojo
Recently Jimmy and Joe were invited to hang out and record a couple episodes of the podcast at The Dojo, the frequently visited garage of our friend Robb Davidson. Robb is a local photographer who also took a few shots of what went down at the Dojo.
The Dojo has become a hangout for many people in the area where guys gather to enjoy a cigar and good conversation. After he invited Jofo to the Dojo, he invited others to be a part of it as well. It turned out to be a great night.
The guys wound up recording an episode on Decisionistic Regeneration, Unhealthy Churches, and a bonus/video episode on cigars.
It was their first time recording in front of an audience of any kind, which made the first 5-10 minutes a little awkward. But things came together well.
Once the guys got comfortable things clicked into place and the conversation was both fun and encouraging.
Plus, cigars. Cigars always make for a better podcast.
Stay tuned for the episodes. The first will drop this Thursday and it's all about "decisionistic regeneration."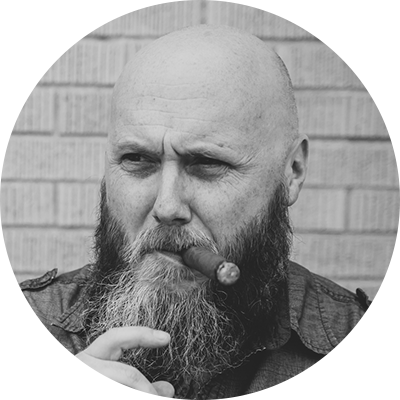 Joe is the Lead Pastor of Redeemer Fellowship in St. Charles, IL. He and his wife have been married for 20 years and have four children. Joe has written a few books that you may find helpful. You can find him on Twitter, Facebook, and Instagram.